"Seek the existence by quality;Seek the development by latest technology"is our company working conception.Therefre,on the one hand,all our products are under control by our Quality Controlling Department;on the other side,ourcompany follows up the latest technical information,and tries our best to make application of the advanced technique into each product.At the same time, we contact the customer termly,acquaint ourselves with their demand,and develop new products together with them, and be sure keep the consistency between the customer and the market.

Put emphasis upon personnel training.Train the personuel in actordanceof their aptiude,and appoint different persons to different positioas in accordance to personnel capability. Therefore,we often have discussion meetings,and organize different trainings for personnel;on the other hand,we will appoint excellent workers for outside training,and take part in different proseminar.

Create favorable working atmosphere.Our company dedicates to creating favourable working and living atmosphera for each wotker,and leads them devoting themselves into their own wotking position.Therefore,we keep improveing the working conditions and production equipmerits,and setting up special living area with entertainment facilities.On the other hand,we often have face to face talking with workers to know much of them.We also have sports meetings termly to enrich daily life of workers,and to enhante cohesion and harmonization among workers.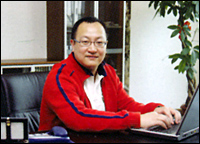 Tom CHEUNG